There is help available from the Scottish Government and the UK Government to help first time buyers who would be able to afford the mortgage payments on a home but are having difficulty saving for a deposit.
Help to Buy (Scotland)
Help to Buy in Scotland is available on new-build homes from certain developers in Scotland. It allows buyers to contribute a deposit as low as 5% with the Scottish Government contributing an equity stake of up to 15% of the value of the home.
The Scottish Government's stake in the home can be repaid at any time or when the home is sold. The repayment is based on the value of the home at the time of repayment.
More details about eligibility, participating developers and details about how to apply for the scheme are available on the Scottish Government's website.
Help to Buy ISA
The Help to Buy ISA was introduced by the UK Government to help first time buyers save to buy a home on the open market. This scheme can be used to buy a new build home or an existing home.
This scheme allows the first time buyer to open a special ISA with a participating bank. First time buyers can deposit an initial lump sum of up to £1,200 and deposit up to £200 each month. The UK Government will contribute an additional 25% on these savings up to £3000.
The bonus will only be paid when the saver is ready to purchase their home.
There are strict rules about when the bonus will be paid so depending on what type of mortgage you have in place, the funds may not be paid until after the sale has been completed. Advice should be sought from a mortgage advisor or solicitor to help you decide if this scheme is right for you.
More information about the scheme, eligibility and how to apply is available on the UK Government's website.
Case studies
[dropcaps round="no"]F[/dropcaps]irst-time buyers Nicole Sutherland and her fiancée Colin Stewart (both 24) from Aberdeen took their first step onto the property ladder thanks to the Scottish Government's Help to Buy scheme. Nicole says:
"We found renting in Aberdeen to be very expensive but Help to Buy made purchasing our own home a genuinely affordable option and we now pay less each month on our mortgage than we did in rent."
---
[dropcaps round="no"]E[/dropcaps]mily Yates (above) is settling into life as a resident of The Village after falling head over heels in love with Glasgow during her time as a Commonwealth Games volunteer in 2014. Emily says:
"I'm a wheelchair user, so the accessibility of the homes at The Village is really exciting, as is the affordable price, the on-site support and the energy efficiency of the homes.  I've wanted the security of owning my own home for a while now, so was encouraged to buy once I saw the affordability and access."
---
[dropcaps round="no"]Y[/dropcaps]oung farmer David Paterson, age 23 from Biggar, wanted get a foot on the property ladder but stay close to family and friends at the same time. He took advantage of the Help to Buy (Scotland) scheme as otherwise buying his own home would have been out of his reach.  David says: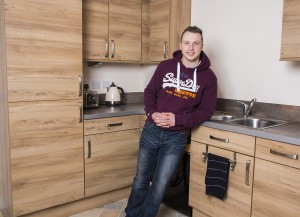 "Even with a full time job, it's really hard for first time buyers like me to get on the property ladder so having this additional help was very welcome.
"I wanted to move out of my parent's home to give me my own space and independence but not be too far away to pop home to help out on the farm and for a good Sunday lunch!"